The food pyramid gives us a basic model to follow, to make sure our diet is made up of the right foods to provide us with the nutrition we need to live healthily.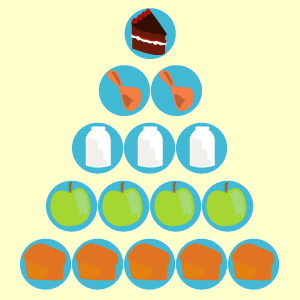 Treats such as chocolate, fast food, biscuits, sweets and cakes should be eaten rarely, once a day at most.

No more than 2 servings a day of meat, fish, poultry and alternatives.

Around 3 servings of dairy produce such as milk, cheese and yoghurt (choose low fat varieties if dieting)

At least 5 portions of fruit, vegetables and salad. These can be fresh, or dried, tinned, frozen or juice.

6 or more times daily, bread, potatoes and cereals make up the bulk of a healthy diet.